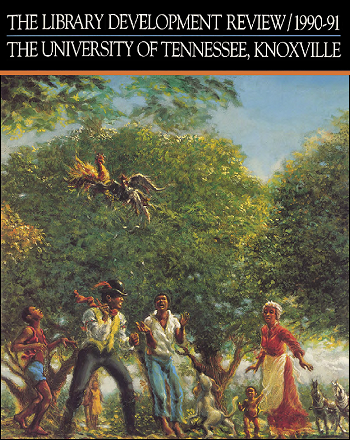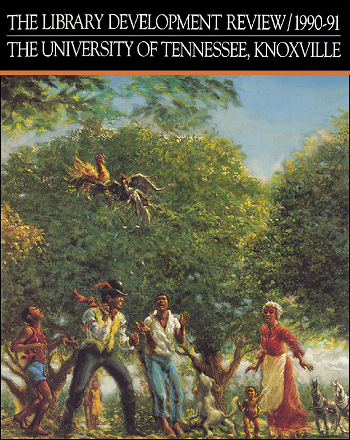 Published in The Library Development Review, Knoxville: University of Tennessee, 1990 / 1991 by James B. Lloyd (Editor) and Laura C. Simic (Assistant Editor).
Within The Library Development Review of 1990-1991, James B. Lloyd stated, "Replevin is an archivist's term for the act of returning records to an official repository from which they have been removed. In this case, I am broadening the term to mean 'what starts in an archive ends in an archive' because that's what happened to the manuscript of Roots when Alex Haley agreed to donate his papers to the University of Tennessee Libraries. Roots started, according to my calculations, in 1964, when Alex wandered by the 'Past is Prologue' statue in front of the National Archives two weeks after finishing the manuscript of The Autobiography of Malcolm X"
"We are most fortunate that Alex Haley has reaffirmed his own roots and donated his papers to The Libraries of the University of Tennessee. He agreed to do so immediately on the evening of October 25th, 1990, when he met with a group from the University headed by President Lamar Alexander."
"The actual transfer of the papers came on Saturday, January 26th, when a crew showed up at Alex's house in Clinton and began loading the library van with some forty boxes of papers as directed by Alex, who also provided refreshments and a tour of his nearby farm."
A Word From Alex Haley is brought to you by the University Libraries at Trace: Tennessee Research and Creative Exchange.
---
A Word From Alex Haley
I have always loved libraries. I like the way they feel. I like to touch the books.
The stories and inspiration for Roots came from my grandmother's front porch in Henning, but libraries helped me make sense out of the stories and fill in the blanks. I quickly found that librarians were my best allies. If they see that you are serious, that you really care about what you're doing, they will get excited too and join in your quest.
One of my favorite stories involves a turtle who winds up on top of a fence post. The point of the story is that you know that turtle couldn't have gotten there without help. I was like that turtle—I had help.
And it's because libraries and librarians have done so much for me in the past that I am happy to do what I can for them now. My long search for my family has, I suppose, made me aware of the wonderful world that libraries can open up.
The folks at UT have become somewhat of an extended family for me. That's part of the reason my papers are at the UT Libraries. It was emotional for me to give them away—like having a child move away from home. But I am of Tennessee. They came from Tennessee, and this is the only place they should be. Now they're not just my private works and recollections, but a part of the fabric of our state to eventually be shared with other researchers, writers, explorers and dreamers.

(A Word From Alex Haley is presented to our audience under the Creative Commons License. © 1990, 1991 The Library Development Review, Knoxville: University of Tennessee, 1990 / 1991. All Rights Reserved.)
Please follow and like us: