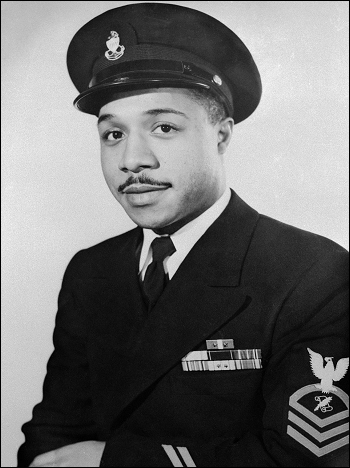 (Alex Haley's Letter To Mr. Walter White, Executive Secretary, NAACP, was written on 26 November 1943 aboard the U.S.S. MURZIM.)
Alex Haley was always remarkably proud of his father, Simon Alexander Haley, whom he said had overcome the immense obstacles of racism to achieve high levels of success and provide better opportunities for his children.
An exceptionally bright child and gifted student, Alex Haley graduated from high school at the age of 15 and enrolled at Alcorn A & M College in Mississippi, where he says he "was easily the most undistinguished freshman." After one year at Alcorn, he transferred to Elizabeth City State Teachers College in North Carolina.
However, in 1939, at the age of 17, Haley quit school to enlist in the U.S. Coast Guard. Although he enlisted as a seaman, he quickly became a third class petty officer in the inglorious rate of mess attendant. To relieve his boredom while on ship, Haley bought a portable typewriter and typed out love letters for his less articulate friends. He also wrote short stories and articles and sent them to magazines and publishers back in the United States. Although he received mostly rejection letters in return, a handful of his stories were published, encouraging Haley to keep writing.
At the conclusion of World War II, the Coast Guard permitted Haley to transfer into the field of journalism, and by 1949 he had achieved the rank of first class petty officer in the rate of journalist. Haley was soon promoted to chief journalist of the Coast Guard, a rank he held until his retirement in 1959, after 20 years of service.
A highly decorated veteran, Haley has received the American Defense Service Medal, World War II Victory Medal, National Defense Service Medal and an honorary degree from the Coast Guard Academy. He also had a Coast Guard Cutter named in his honor, the USCGC Alex Haley.
Alex Haley's Letter To Mr. Walter White, Executive Secretary, NAACP
U.S.S. MURZIM
c/o Fleet Postoffice,
San Francisco, Calif.
26 November, 1943
Mr. Walter White,
Executive Secretary, NAACP,
Washington, D. C.
Sir:
Though I have often searched for some such source of information, it was only recently that I happened to secure a copy of W. M. Kiplinger's, "Washington Is Like That," and read the chapter entitled, "Negroes and Equality," which, I am sure, gave me a far better insight on conditions as they actually exist and names of the most influential colored citizens, who, as yourself, are named, that made them exist in the vicinity of America's nerve center, Washington.
Even now, that I have read the chapter, I am not sure what it was, exactly, that I did want. Possibly it was that I wished to write you in hope, however faint, that I might hear from someone who has ascended the heights that I aspire to in my own field and, in so doing, gain inspiration. More important, however, is the fact that I want to tell somebody who matters and is in a position to understand my reaction, how another colored American feels about this so-called 'race problem.'
The things that I have to say will deal most specifically with the service as I have been a member of the Coast Guard for over four years and have done extensive travel and more extensive study into the actual case of things as they exist for members of our race in service life. I am 23 years of age, have completed two years of college and am an amateur writer who deals principally with fiction. In this field I had already had minor successes and have been told from several informed quarters that I may well consider it as a means of making a living in future life. However, these facts have little to do with what I wish to talk about most—the Negro in military life, particularly Naval. You will understand, of course, that I do not consider what I have to say as covering the whole field but as covering that reasonably small portion of it with which I have come in contact. This, I can assure you, will be longer than you probably have time to read but may I ask that you bear with me until I have finished? I hope that something I may say will make it worthwhile.
To begin—when I first joined the service, I was fairly young, thoroughly untutored in the ways of the world but endowed with the benefit of excellent family training and background and a fair education. I had no idea of what service life was like nor of what I could become as a result of having joined (which I did, on my father's advice, as a means of gaining experience which would benefit me in later life and in my last two years of college work which I intended to pursue upon completion of my enlistment but which was annulled with the coming of war before that time). However, I was soon informed of the fact that I was a mess-attendant, a 'server-of-foods,' a 'seagoing-houseboy' in general. At first I accepted this status without question since none of the other colored personnel seemed to desire any other field. Later, I began wondering why. White boys who had come in along with me were going into different branches and though I felt they had no more capabilities than I, were succeeding. Occasionally I would ask about it, even officers, and the general answer was, "You just can't, that's all . . .," with no further attempt at explaining the matter. I knew, of course, of prejudice, but strangely enough, it did not appear that prejudice was the cause of the attitude. It was simply the accepted thing that colored personnel should be messboys, nothing else.
Finally, it dawned upon me—it was the boys themselves. I began to look upon them, my shipmates, acquaintances on other ships, in a new light. I discovered that (and you will remember, this was in peacetime) the average school training the group had was about the fourth of fifth grade; that, in addition to this, they had little or no desire to branch out or learn anything that required any mental ability whatsoever. It was a simple thing to wash dishes, serve tables and the like and they were satisfied with it.
I studied the situation as thoroughly as I could, arrived at a theory and finally worked out a plan of action through results of which I could test my theory. I would be a 'guinea pig.'
At that time, when drills in signals, morse code and semaphore, were held, it was the custom that everyone was forced to attend except colored personnel, who could if they wished, None of them, evidently, wished to but rather considered themselves lucky that they could stay away from such 'boring' things. I attended religiously with the result that, in time, I was more proficient than most of the white crew members. It did me little good where I learned but it was something that I knew, nonetheless other things took my interest and I learned them—numerous things, clerical routine, deck work, navigation—anything that I could do. My mates regarded me, to say the least, as 'crazy' for going out of my way when I could have been asleep. The white members of the crew, however, began to show me much more respect and took much of their time to show me things. When I left that, my first, ship, I was fairly well versed in general ship routine.
Aboard the next, a still larger ship, I discovered the same state among colored personnel. They were friendly enough with me but rather regarded me with awe. When, eventually, the officers took an interest in me, they wrote and asked that my rate be changed to seaman but the letter was evidently 'pigeonholed' as I have never heard from it since. I was finally rated steward, third class since that was in my field, the only rating I could have had at that time. I found that, rather than trying to hinder me, the white personnel was more than glad to lend me a hand in anything I undertook. When war broke out, I was transferred from the galley where I cooked and stationed in the ship's office where I performed the duties of a yeoman for six months. At the end of that time, I was given the rating of second class steward.
But with the war came a new colored man in the service. He, I might say, offered excellent opportunity for study. For the most part, though much better educated, he was flatly demanding—he had no interest whatever in things that the service, prior to that time, had held 'hallowed,' regulations and such. Consequently, he fared badly. Some who were not actually capable of holding a new rating would demand a chance at them and, in accordance with the Naval service's new policy, would be given a chance. I am sorry to say that due to practically nothing but inattention and indolence a great portion of them flopped miserably. There were some, however, who grasped the opportunity and have progressed wonderfully well. Of those men, I am proud because they have helped me perfect my theory. Those who failed seldom hesitated in wailing that they were victims of discrimination. That attitude did much to heighten tension and to make it harder for willing men to attain new levels.
Meanwhile, I was transferred from the east to the west coast and to sea. At this writing, I am still on that duty and very close, at present, to the actual war front.
On this ship, the MURZIM, my greatest opportunity has presented itself. For instance, when we left the States, we were in convoy where strict ability is required in signalling. Most of our signalmen were green and had never before had experience under fire so I volunteered to help and two days out of San Francisco, was taken permanently out of the galley and put on signal watch where I stayed for over a month until we had reached our first port on this side.
That started me off. I was immediately rated steward, first class (could, at that time, have changed my rate to signalman, but decided against it) and upon our ship's receiving new signalmen who had been in this area and were as efficient as need be, I was relieved of that duty and, at my own request, placed in the ship's office where I was fairly well at home. Finally the idea was conceived that we should have a ship's paper and, on account of my experience at writing, I was named editor of that. I am still in this capacity and have an office of my own. It seems that the paper has proved itself one the most important things aboard ship.
I can safely say that I believe I am one of the most respected men on board this ship in spite of the fact that a very large majority of our crew is composed of southerners. Not long ago, I was voted the best shipmate, the most popular and most versatile man aboard. In addition to this, the Captain has done something for me that has happened to very few colored men in the Coast Guard. He wrote a strong letter into Coast Guard Headquarters in Washington asking that I be given the opportunity of attending the Coast Guard Academy in New London, Conn. with view to becoming an officer. He specified that I was colored in the letter but I must say that I have yet to see a more commending letter.
And now, with this opportunity as a goal, I wait and hope that it will be granted. I know that no matter how feeling about me aboard ship runs, it may not go through due to conditions in Headquarters over which he would have no power. Someone might not think the idea feasible and kill it then and there. However, if it does come through and I receive the opportunity, I am sure that I will do my best to get through and feel that, with my experience, I can get through and, as a result, be in a position to help others of my race who will come along.
You see, Mr. White, what I really would like most is an opportunity to be stationed in some position that I might come in contact with a number of boys already in or about to be inducted into Naval service where I could help them become the type of men that the Navy really wants and will give every possible chance.
That is not the sort who come in with a chip on their shoulder but those who are willing to apply themselves wholeheartedly in order to achieve the numerous ends open to them. I believe, honestly, that there is not man in service better fitted for this sort of job better than I and certainly know that there are none who could possibly appreciate the opportunity moreso. This, however, though I hope for it so much, seems a vague hope to me—I somehow cannot believe that it will be approved of regardless of the fact that I know of two or three colored officers already in the Coast Guard. I constantly nurse the fear that someone who has no idea of the possibilities of someone who has studied the situation in such a station as I name or of the help that I feel I can render, will pass judgement against it. In that case, there is nothing I can do save accept the verdict as final and go on helping those that I can in my present position which, actually, is vastly inferior to that of an officer regardless of the esteem in which I might be held aboard the ship.
Now . . . that I have written what I have, I am inclined to believe that you might have gotten the opinion that I am writing merely to pat myself on the back. I assure you, however, that it is not that but rather that I have used myself, the 'guinea pig,' as an example to show you what our young men in service could do if they applied themselves. There are others that I could name, who, though younger in service than I, have listened to me and are now well on their way up in the fields open to us.
I discover too, that my principal object in this letter was to inform you of my findings in the hope that, in your position, might be able to pass it on to someone who is affiliated with men about to enter Naval service and who could, by so doing, help some of them along. I am sure that if the matter were thoroughly outlined to them, there would be a much smaller 'casualty' list among those who enter with high ambitions.
And now, Mr. White, I had had my say, whatever it might mean to you. I can only hope that by having done this, putting it in the hands of someone who is able, I have done a bit toward helping someone who, otherwise, would not have been helped save by bitter experience. That done, I am satisfied.
Would I be asking too much to request an answer? I would at [least] like to know that you have received the letter and if you do find time to answer, please do so via air mail. It seems that we get that sort much more rapidly and it has the added advantage of being longer.
Thanking you for your time, I remain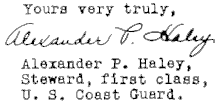 (Alex Haley's Letter To Mr. Walter White, Executive Secretary, NAACP is presented under the Creative Commons License. It was originally written on 26 November 1943 aboard the U.S.S. MURZIM. © 1943 U.S. Coast Guard. All Rights Reserved.)
Please follow and like us: