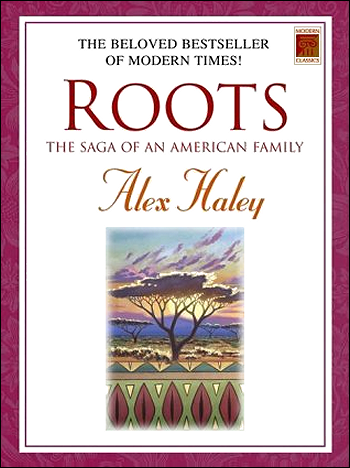 (Opening excerpts from Roots: The Saga of An American Family, which were published on August 17, 1976)
Alex Haley's 1977 miniseries, Roots, not only gave America a lasting emotional experience about African-American history, it also revolutionized prime-time television storytelling with its book-like novelization of a gigantic story. Those who worked with Haley on Roots and knew him over the years spoke of his qualities as a human being and dedicated writer.
"What made him a great man was that he was such a gentle man," said David Wolper, executive producer of Roots, which earned nine Emmy Awards, more than any other miniseries. "From the day I met him in 1974 to the day of his death, he never changed. He treated the most famous people in the world the same as he treated anyone else."
"When I first met him," said Stan Margulies, producer of the miniseries, "he was still so broke that he would occasionally interrupt writing Roots to go out and lecture. Something drove him, and it was more than just telling a story. One of the things that Alex referred to often was what Malcolm X told him before his death—that 'we'll never know where we're going until we know where we came from.'" After Roots had its huge impact, said Margulies, "Alex and I talked about the fact that no one set out to change the face of television, just to tell a story."
I believe that Alex Haley is a chosen person with a divinely appointed task to perform on this earth. I feel it is our responsibility now to do everything we can to further the Cause of freedom and justice for Africa—and, indeed, for the world. This cannot come without an end to waste and war, or without economic and social development. The United Nations is working intelligently and diligently toward that end. We must pray for this work and support it. ~ Palmer Van Gundy.
Dedication By Alex Haley
It wasn't planned that Roots' researching and writing finally would take twelve years. Just by chance it is being published in the Bicentennial Year of the United States. So I dedicate Roots as a birthday offering to my country within which most of Roots happened.
Acknowledgments By Alex Haley
I owe deep gratitude to so many people for their help with Roots that pages would be required simply to list them all. The following are pre-eminent:
George Sims, my lifelong friend from our Henning, Tennessee, boyhood, is a master researcher who often traveled with me, sharing both the physical and emotional adventures. His dedicated combing through volumes by the hundreds, and other kinds of documents by the thousands—particularly in the U. S. Library of Congress and the U. S. National Archives—supplied much of the historical and cultural material that I have woven around the lives of the people in this book.
Murray Fisher had been my editor for years at Playboy magazine when I solicited his clinical expertise to help me structure this book from a seeming impassable maze of researched materials. After we had established Roots' pattern of chapters, next the story line was developed, which he then shepherded throughout. Finally, in the book's pressurized completion phase, he even drafted some of Roots' scenes, and his brilliant editing pen steadily tightened the book's great length.
The Africa section of this book exists in its detail only because at a crucial time Mrs. DeWitt Wallace and the editors of the Reader's Digest shared and supported my intense wish to explore if my maternal family's treasured oral history might possibly be documented back into Africa where all black Americans began.
Nor would this book exist in its fullness without the help of those scores of dedicated librarians and archivists in some fifty-seven different repositories of information on three continents. I found that if a librarian or archivist becomes excited with your own fervor of research, they can turn into sleuths to aid your quests.
I owe a great debt to Paul R. Reynolds, doyen of literary agents—whose client I have the pleasure to be—and to Doubleday Senior Editors Lisa Drew and Ken McCormick, all of whom have patiently shared and salved my frustrations across the years of producing Roots.
Finally, I acknowledge immense debt to the griots of Africa—where today it is rightly said that when a griot dies, it is as if a library has burned to the ground. The griots symbolize how all human ancestry goes back to some place, and some time, where there was no writing. Then, the memories and the mouths of ancient elders was the only way that early histories of mankind got passed along . . . for all of us today to know who we are. ~ Alex Haley.
(The Dedication Section and Acknowledgment Section of Roots by Alex Haley is presented under the Creative Commons License. © 1976 Doubleday, Division of Random House, Inc. © 2007 by Perseus Books Group. All Rights Reserved.)
Please follow and like us: