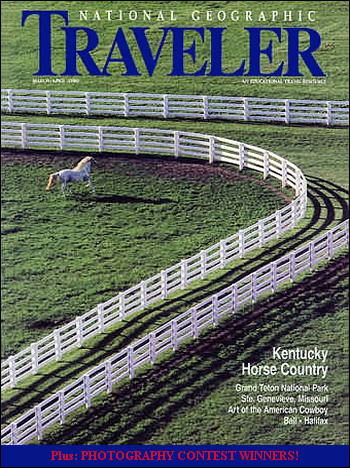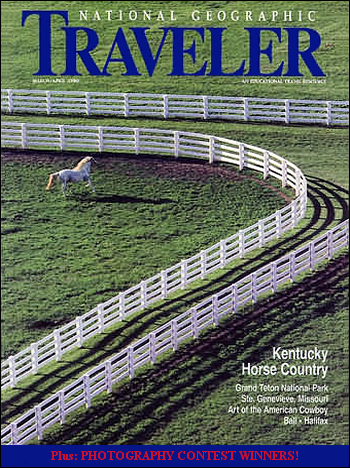 (Down To The Sea Again by Alex Haley was originally published in the March / April 1990 issue of National Geographic Traveler.)
Haley, author of the 1977 Pulitzer Prize-winning Roots, began his writing career as a hobby, ghost-writing love letters for his shipmates for 50 cents while he was a steward on cutters during World War II. Later, he was the Coast Guard's first chief journalist, working at the public affairs office in New York. He developed his style there, writing about Coast Guard rescues. As a best-selling author, he said the training and discipline he received in the Coast Guard were responsible for much of his success. Haley retired in 1959 after 20 years of military service.
In 1943, Haley transferred to the USS Murzim, where, due to a shortage of trained men, he stood signal watches. Because of his exceptional service on the signal deck, they advanced him to steward's mate first class. They offered him signalman first class, but he declined it so he could return to the ship's office. Following the advice of his senior steward, 25-year veteran Percival L. Scott, that "opportunity ain't every night," Haley applied himself to being the best. He became the editor of the ship's newspaper, The Seafarer, and noted he had "an office of my own"—a sure indication of success. Continuing his study, he noted with pride that although the Murzim had a predominately southern crew, he was one of the most respected men on it. In a shipboard contest, they voted him the most popular, most versatile, and the best shipmate.
Haley showed the positive attitude and educational zeal that should be taught and employed by all. He set examples and gave opportunities, showing that people who seized chances and worked hard succeeded, but those that did not failed. Haley found the Coast Guard a place of opportunity and made semper paratus his guide for every opening that came his way.
Down To The Sea Again By Alex Haley
Going to sea is my salvation. It's the one place I know of where I can be reasonably isolated and have uninterrupted time to write. I always travel by freighter, staying out for a month or two at a time. The staterooms on freighters are very comfortable—some are really lavish—the food is great, and every trip is an adventure because cargo, not a set schedule, dictates a freighter's movements.
If I could spend one month at sea and one on shore, I'd be in hog heaven. I'm not too far short of that. Right now I spend three or four months a year on freighters. I tend to repeat trips I've done before, taking the same cruise from Houston to Rio, then on to other ports in South America. Or I cross the Atlantic to Europe or take a run from California through the Pacific to Australia and New Zealand.
It was while I was at sea, during my 20 years in the Coast Guard, that I taught myself to write. It started with letters to lots of people back home, dramatizing my travels. My shipmates began to notice that I was sending and receiving more mail than anybody else, so they asked me to help them write letters to their girls. Pretty soon I was the Cyrano of the ship, composing love letters for all these guys. That was the first notion I had that writing was something I might pursue as a career.
I still like to write on the water. You get this almost triumphant feeling from standing on the deck of a big ship as the lines are loosed. You look down at all those people on the pier, and they all have envy on their faces, wishing they could go too. Then the big ship moves away from the pier. There's something about that movement. Slow power. She eases away, and the next thing you know, you're at sea again.
The first days are always the same for me. I worry about what I didn't get done before leaving. But around the third day I get to the point where I stop caring about that. There's nothing to see but water, and it's a wonder. Another medium, a different world. That vast expanse takes you out of yourself.
All of a sudden I'll realize that I'm actually out there, and I can start working on that critically important writing I've brought with me. I'm like somebody who's starving. I'm ravenous to get at this work, this writing I love so much.
At sea I work 14 to 16 hours a day, starting about 10:30 every night and writing until daybreak, then sleeping till lunchtime. In the afternoons I do whatever I feel like. Maybe fiddle with my notes, pick, peck over what I wrote. At dinner I socialize with the other passengers. After dinner I take another nap, then by 10 or 10:30 I'm back at work.
Usually about 1:30 in the morning I take a break and go out on deck. At that hour it's quiet, with everybody asleep. I always go and do that time-honored thing of putting my hands on the ship's rail and staring up at the moon.
When you see the moon at sea, you feel that if you could just stretch a little farther, you could touch it. Sometimes Venus is visible up there too. If you stand very still, you'll begin to feel this fine vibration coming through the soles of your shoes. And you realize with awe that it's coming from the huge diesel turbine 35 feet under the water, driving the mammoth ship like a small island through the ocean. And if you keep standing there a little longer, you'll hear a soft hiss as the skin of the ship cuts through the resistance of the sea.
Being out there, feeling that vibration and hearing that hiss, staring up at God's moon and stars, the firmament, it's about as holy a moment as you're going to get. It's the kind of experience that makes me go back inside and write with a sort of reverence that comes from where I am and what I'm exposed to, from just being out there on the sea.
(Down To The Sea Again by Alex Haley is presented under the Creative Commons License. It was originally published in the March / April 1990 issue of National Geographic Traveler. © 1990 National Geographic Society. All Rights Reserved.)
Please follow and like us: