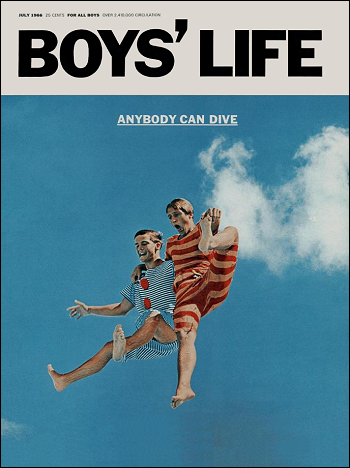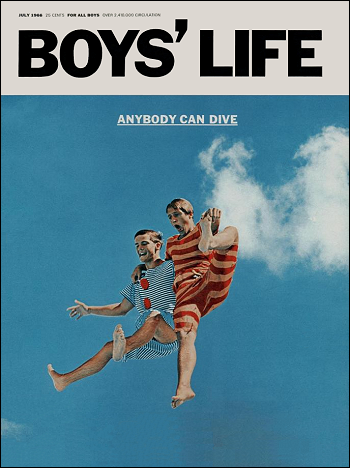 (John Philip Sousa by Alex Haley was originally published in the July 1966 issue of Boys' Life Magazine.)
Of all composers who ever wrote a tune, none will match the marches of John Philip Sousa. Author Alex Haley's swinging typewriter banged out this life story of America's March King in perfect one-two tempo.
John Philip Sousa was born in Washington, D.C. on Nov. 6, 1854. Sousa, known as the "March King," ranks among the most famous American composers and conductors. On December 25, 1896, he composed The Stars and Stripes Forever, the official march of the United States of America. Sousa was the inventor of the sousaphone.
Sousa was a man of considerable self-discipline and extraordinary talent. To all who knew him, he was a man of incredibly high moral standards. Sousa's musical compositions represent a heritage that belongs not only to Americans, but also to vast numbers of music lovers around the world. His influence on American musical tastes was remarkable, which then spread abroad. The Sousa band traveled the world in 1910-1911, made four additional tours of Europe, and annual tours of America.
Although Sousa is stereotyped as a march composer, he composed music of many forms, including 15 operettas. Among his many original works for band are suites, humoresques, fantasies, descriptive pieces, and dances.
In addition to the over 200 songs of his operettas, he composed 70 other vocal works, and many of these vocal works wee transcribed for use with the Sousa Band. The musical philosophy, which stimulated his composing, ("I would rather be the composer of an inspired march than of a manufactured symphony.") is reflected in all of his works. Basically a humble, deeply religious man, he composed only upon genuine inspiration and repeatedly stated that his melodies came from a "Higher Power."
Sousa was an indefatigable worker, proclaiming that, "When you hear of Sousa retiring, you will hear of Sousa dead." This prediction came true; he died suddenly following a rehearsal of the Ringgold Band in Reading, Pennsylvania on March 6, 1932. He is buried with other family members at Congressional Cemetery in Washington. Among hundreds of honors he received during his lifetime and posthumously, was election to the Hall of Fame for Great Americans. Only 102 persons have been so honored.
John Philip Sousa
Thirteen-year-old John Philip Sousa was nearly speechless with shock. Instead of a routine late afternoon walk along the sidewalks near the Sousas' small home In Washington, D.C., the boy's father had guided their steps to the mansion of the U.S. Marine commandant. For years, Philip had spent daily hours raptly listening to and watching the rehearsals of the U.S. Marine Band, in which his father was a veteran trombonist. Now, after actually meeting and shaking hands with the general who was the commandant, Philip heard him ask, "Young man, how would you like to be our band's apprentice?"
Philip managed to blurt, "Fine, sir!" The general told him to raise his right hand, and the boy pledged "to bear true allegiance to the United States of America."
This came as a surprise to Philip, but not to his father—who had arranged the appointment to solve a family crisis. For years Philip had frequently upset his parents with his deep streak of high-strung rebelliousness. When he was only five, his mother refused him a second doughnut; he told her, "You'll be sorry!" and slipped outdoors to hide for hours in a wet, cold night. The pneumonia he caught brought him so close to death that it was two years before he could enter school. Instead, he took violin lessons. Though he had some harsh words with his teacher, his talent won him prizes in child-musician contests sponsored by the Washington Post. When Philip threatened to smash his violin over his teachers head, his parents wisely found him another teacher.
Now attending school, Philip got top grades. Incredibly, at 11, he organized seven adult musicians into a dance band and proceeded to line up engagements. But a client refused to pay what was asked, and bandleader Sousa quit. When Philip's parents chanced to hear that their son then intended to run away and join the circus, his father appealed to the commandant to let the boy "join" the band as apprentice.
Philip regarded his band chores as a small effort, for he took pride in marching with the band in his red-and-blue uniform. Most of all he loved the band's sound. Securing an old baton, he secretly practiced conducting.
In his early teen years, Philip began to compose tunes, and mailed them off to music publishers. By 18, the handsome, popular Philip was playing his violin at benefits and society functions around Washington. At 21, Philip was made a regular musician in the Marine Band, but the small pay and slim career opportunity were not up to his expectations, so he left the band.
Philip continued playing at affairs, teaching some pupils and studying music. When at Ford's Opera House, a visiting conductor fell ill just before a performance, young Philip was called in. He substituted so well that the conductor afterward telegraphed from Chicago asking if young Sousa would join him as musical director.
Philip was on the next train. He loved the glamour of touring, even the hardships. As versatile as he was talented, young John Philip Sousa later took a job coaching a Philadelphia company in the English operetta. "H.M.S. Pinafore." Here he met a pretty, chestnut-haired, 16-year-old miss in the choir—Jane van Middlesworth Bellis. Philip wrote and dedicated a song to her, "When You Change Your Name to Mine," and Jane accepted his proposal. On New Year's Eve in 1879 they were married.
The following year, Philip and Jane were on tour with his own operetta, "Our Flirtations," when he received his father's telegram: "Come to Washington at once. Position of Marine Band leader waiting for you." It was a supreme triumph! Philip would be the youngest Marine Band leader ever, as well as the first native Washingtonian to hold that post.
When the Marine commandant told Philip that the band gave him steady trouble, Philip found the reason: The bandsmen received only $13 to $38 per month. The bandsmen instantly liked their new conductor, even though he was a strict disciplinarian. He drilled the band in such new tones as "whispering" with delicate effects, and in long, organ-like tones. The band's first performance under Philip's baton, a reception for outgoing President Hayes, was hailed as a triumph.
The following September, 1881, when President Garfield succumbed to an assassin's bullet, Philip composed a "Garfield Funeral March" while the band rode the train taking the body to Cleveland.
Soon, distinguished and fashionable Washingtonians began gathering for the Saturday afternoon Marine Band concerts on the White House lawn. Indeed, the band sounded and looked different now. This black-bearded conductor had found youthful musicians to replace dour, grouchy old-timers. And he encouraged youngsters to run after the band as it marched—as he himself had once loved to do.
Sousa's love of research led him to compile for the band's repertoire the national anthems of all foreign countries. His own compositions began to be played by bands across the country—"The Loyal Legion." "The Piccadore," "Ben Bolt," "The Gladiators." People were saying that even a wooden-legged man could keep step with a Sousa march.
One reason for the success of Sousa's marches was that he tried in his composing ways to utilize the emphatic one-two, one-two beat of a good march, which corresponds to the human being's breathing and walking rhythm—and consequently appeals to man's ageless instincts.
When Sousa dedicated his new "Washington Post" march—named in honor of the newspaper from which he had won boyhood honors—people whistled it in the streets. Dance bands began playing the "Washington Post" march, and a new national dance craze, the "two-step," was created. The dance—and the name of John Philip Sousa—soon spread to Europe.
Successful as he was, Sousa, privately, was increasingly displeased with his job. He and Jane had a son and two daughters to raise on his $1,500-a-year salary. Philip had repeatedly been refused the commission he wanted, as well as pay raises for his men. Moreover, he had never overcome his old love of touring.
When President Harrison scheduled a trip to several cities, Sousa successfully campaigned to have the Marine Band accompany the President. At every stop, there were packed houses and rave reviews. In March, 1892, Sousa took off on a second Marine Band tour. In Chicago, David Blakely, a famed promoter, heard the concert.
"Why not conduct your own personal band?" he asked Sousa. Blakely knew what Sousa was earning; he offered four times as much—$6,000 a year, plus 20 percent of profits, on a five-year contract. Sousa, after some hesitation, accepted.
"Sousa's Peerless Band," made a smash debut at the great Chicago Exposition. The band's 14 daily concerts drew more audiences than the Exposition's six other bands had drawn in an entire week. The Sousa band spent the next two years touring the United States, playing under tents, sheds or open sky. In broiling summers, the bandsmen sweated; in terrible winter weather, they emerged from snow-covered trains and wrestled their heavy instruments to concert halls. Sometimes concerts began with a dozen men still numb with cold, and gradually the others straggled in.
In Sousa's wake, his compositions were played more and more by other bands, dance orchestras, pianos, even barrel organs—and the infant phonograph. Steadily, Sousa's income climbed until his 1896 earnings surpassed every government officials' except the President's.
That November, Mr. and Mrs. Sousa were on the SS Teutonic returning home from a vacation in Europe, where they had learned of the death of Sousa's manager, David Blakely. Pacing the decks, staring at the sea, Sousa felt a verse stirring in him—"The Stars and Stripes . . . the gem of the land and the sea . . . waving forever. . . ." Upon arrival in New York, Sousa shortly locked himself in his study and captured the score on paper.
All of America hailed "The Stars and Stripes Forever." "Sweeping and iron optimism," said one of the major critics; and another, ". . . the most stirring musical expression of patriotism ever composed." Soon, only Johann Strauss's "Blue Danube" waltz matched the new Sousa march in international popularity. Many foreigners thought it was America's national anthem. Sousa earned $300,000 in royalties, then an utterly unprecedented amount.
And the small, neatly bearded Sousa was as colorful a personality as he was famous. In Buffalo he tried to cash a large check. Having no identification with him, he whistled and "conducted" "The Stars and Stripes Forever." His check was cashed, amid applause. He was frequently quoted in the press, and cartoonists and comedians lampooned him, Men shouted his name and ladies gushed in his presence. He received foreign-postmarked letters addressed only "The March King, U.S.A." No national or international celebrations were without his music; an estimated 18,000 bands now played his compositions.
Then typhoid fever struck Sousa, and while he convalesced, his inventive mind created a modified band instrument. He had never particularly cared for the helicon tuba, a huge brass coil around the player's body with its large bell blaring music behind. Sousa asked officials of the Wurlitzer Company, why not a tuba with its bell turned upwards, "to diffuse sound over an entire band, like the frosting on a cake." The resulting instrument, still a standard one, is called a "Sousaphone."
Just about every possible European musical award was to be given to Sousa. After a return to the United States for a fifth transcontinental tour, the band returned to London to play a command performance for the Queen's birthday. To the now-graying Sousa the gratified King awarded the Victorian Order—England's highest honor for an artist, one which no other American had ever received.
His friends and his musicians said that Sousa thrived on the pressure of rushing from trains to concerts in about 240 towns a year. But sometimes during the tours a member of the band had to conduct when Sousa became overexhausted. Now and then he sadly announced a "final concert," but among the bandsmen these final concerts became a joke, for he always followed with a "comeback tour."
In 1910, even the bandsmen were astonished when Sousa announced, "I and those of you who want to join me shall be gone for about a year." The 53 hands rose as one, He described a world tour which would begin by crossing the United States.
But in New Haven, Conn., Sousa had to be rushed to a hospital suffering from an attack of ague. The band traveled on, with bandsman Herbert Clarke conducting. A wan, shaky Sousa reclaimed the baton in Montreal. On Christmas Eve, the SS Baltic sailed with a Sousa party of 68 people, this time including Mrs. Jane Sousa and the two Sousa daughters, to whom Sousa wanted to show the world. In England, Ireland and Africa, concert triumphs were scored; thence, in Australia, New Zealand and the Fiji Islands. The equator was crossed to Honolulu, and finally the jubilant, weary troupe rode by train from Victoria, Canada, to Seattle. Never had any band received such a homecoming reception! Other bands played "Home, Sweet Home" as thousands lined the tracks, cheering and waving. Soon, in their 50-odd hometowns, the individual bandsmen were received as heroes. They had traveled with the living-legend Sousa nearly 50,000 miles on land or sea, to play 474 concerts before more than one million people.
In a dramatic gesture of respect on Sousa's 60th birthday, orchestras and bands across the United States simultaneously played a Sousa march. In New York City's Hippodrome he heard ranking Americans pay him such tributes as that of William Courtleigh, Shepherd of the Lamb's: "He has placed the entire country under a lasting obligation and has merited its deepest debt of gratitude for having for so many years thrilled the hearts, heads, and even the heels, of all the people."
But it was Sousa who paid the honors on his next birthday, in 1916—to a large contingent of Boy Scouts whom he had invited to the Philadelphia Opera House. "I want to give you a present," he told the Scout audience. And the Sousa band played his stirring new "Boy Scout March," dedicated to the Boy Scouts of America.
Sousa had always had a soft spot for youngsters. Now more and more of his time was spent traveling to distant places to conduct at the debut of some school band or to judge band contests. Sousa was gratefully aware that he had influenced the formation of many new bands throughout the United States school system.
In 1926, Sousa had paid the Internal Revenue Collector a then staggering annual income tax of $12,000. His "Stars and Stripes" alone had sold 20 million recordings, plus 10 million copies of sheet music.
When the United States entered World War I, 62-year-old John Philip Sousa was sworn into active service as a Navy lieutenant. His musical battalion marched for patriotic drives, and the public's contributions totaled millions of dollars. Some people pledged up to $200.000 apiece to hear Sousa conduct their favorite air.
Back in civilian life after the war ended, Sousa was still colorful at 65. The Grand Old Man was pursued steadily by reporters who loved to discover his eccentricities. The nation read that Sousa for some reason of his own always wrote his letters and verse in a narrow column down the right-hand side of the paper. He told one reporter that he talked his personal business only to his old horse Marguerite—"she never gossips."
In 1922, another horse—not Marguerite—threw Sousa, injuring his back. The famed conductor was seldom again able to raise his arms without severe pain. He still stood militarily when conducting, but he kept his hands below his waist, often cueing the musicians with only his thumb. Sousa's touring seasons inevitably were growing shorter. He simply could not keep up the old pace anymore.
At 74 years of age, he conducted 52 crack bandsmen in a weekly General Motors-sponsored debut in the new medium of radio. That millions at one time could hear the band's music seemed "frightening," Sousa said. The flood of congratulatory messages even included one from the Antarctic—from Cmdr. Richard E. Byrd.
After three years on the radio, at 77, he assured his audience, "I want to live to be 100 to write many more marches."
But, early in March, 1932, John Philip Sousa developed a coughing spell after a concert rehearsal in Reading, Pa. His coughing had eased somewhat when at 10:30 p.m. he went to bed in his room at the Abraham Lincoln Hotel.
In the next room, Lillian Finegan, Sousa's secretary, heard her employer's coughing steadily worsen; finally, in alarm, she summoned a doctor.
The world-famous Sousa tried to talk to the doctor—but the words were unintelligible.
His condition grew no better and, at 1:30 a.m., March 6, 1932, John Philip Sousa drew his final breath.
Following a short funeral service in Reading, Sousa's body was shipped to his native Washington. There, mourners met the train in the soft silence of a heavy snowfall. The body lay in state among flowers at the Marine Barracks, with a U.S. Marine Guard of Honor. At the solemn, simple funeral, the White House was represented by Vice President Charles Curtis, there was a Senatorial delegation, and both Houses of Congress honored Sousa's memory by offering one minute of silent prayer.
Then, in the crackling cold, the U.S. Marine Band played one dirge, then several lively Sousa marches. Motorcycle policemen parted the crowds for the hearse that eight white horses drew to the Congressional Cemetery, near Sousa's childhood home. Although his military service qualified him to be buried in Arlington National Cemetery, he had expressed his wish to lie at rest beside his parents.
At the gravesite, Marines and sailors presented arms; priests said commitment prayers, and Freemasons ritually placed on the coffin an apron and evergreen twigs. The flag was removed, folded triangularly, and given to the grieving widow. And, as sailors fired three volleys and taps was played, the body of John Philip Sousa was lowered into the earth. ~ Alex Haley.
(John Philip Sousa by Alex Haley is presented to our audience under the Creative Commons License. It was originally published within the July 1966 issue of Boys' Life. © 1966 Boy Scouts of America, Inc. All Rights Reserved.)
Please follow and like us: