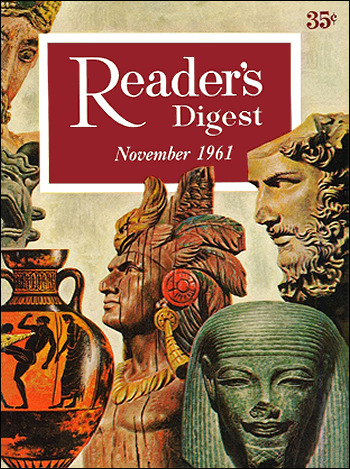 (She Makes a Joyful Music by Alex Haley was originally published in the November 1961 issue of Reader's Digest. In 2007, Reader's Digest republished the article in Alex Haley: The Man Who Traced America's Roots.)
Mahalia was born October 26, 1911, in New Orleans. Her father, a Baptist preacher, sent her to live with her Aunt "Duke" Clark-Paul after her mother's death in 1916. Aunt Duke didn't allow secular music in the home, so little Mahalia belted out hymns and old-time gospel tunes. "I was singing almost as soon as I was walking and talking," she said. "I always had a big voice, even as a child."
At age 16 Mahalia went to Chicago and joined the Greater Salem Baptist Church choir, where her remarkable contralto voice caught the attention of storefront and tent churches from New York to California. The larger, more formal congregations didn't approve of the rhythms of her songs and her energetic performances. When they frowned on her rocking, swaying and shouting, Mahalia said: "I had been reading the Bible every day most of my life and there was a Psalm that said: 'Oh, clap your hands, all ye people; shout unto God with the voice of triumph.' If I was undignified, it was what the Bible told me to do. I want my hands, my feet, my whole body to say all that is in me."
In Alex Haley's article, Family: A Humanizing Force, he mentions: "One time for Reader's Digest I was doing an article about the late, great Mahalia Jackson. When she was going to do a big concert somewhere in a city, often she would just disappear shortly before the concert, particularly if it was a weekend. After a while they knew where to find her. They would go up into the local black community—Harlem, the south-side of Chicago, or wherever—and look in little storefront churches. And somewhere they would find the great Mahalia in some little choir singing her head off.
"She told me, 'You know what I do? In the concerts, I pour everything in me out.' Then she said, 'Them little places where I started, they're my filling station.' Cousin Georgia became my filling station—spiritually, psychically. I'd go back to see her after ranging and searching." ~ Alex Haley, (August 13, 1980).
She Makes a Joyful Music
Though Tempted By Jazz And Blues, Mahalia Jackson Was Born To Sing Gospel
When Mahalia Jackson, the world's greatest gospel singer, walks onstage for a performance, her broad face is radiant under her high, wavy crown of black hair, her lips move soundlessly in the prayer that she will "make a joyful noise unto the Lord," just as her preacher-father always asked her to do in his church.
Then, to soft piano chords, Mahalia intones, "I sing because my soul is happy." Succeeding songs deepen the cathedral hush in the concert hall. Tears glisten on Mahalia's face and add another dimension to the low, rich, impassioned voice. Soon in the packed house many besides Mahalia are weeping.
Abruptly Mahalia shifts to big, jubilant gospels. She booms a tom-tom beat, her eloquently mobile face and large body rejoice in an exuberant and contagious rhythm. Sophisticated audiences thump their feet and clap hands, shout for a dozen encores.
As she leaves the stage, it's difficult to realize that in the days when Mahalia Jackson was a desperately poor nobody, she had to fight against a recurrent temptation that to anyone else would have been the chance of a lifetime. For most of her life, relatives, friends, musicians, all had wanted her to turn away from her gospel songs to sing jazz and the blues.
In 1915, when Mahalia was four years old, two relatives who were minstrel stars came to her native New Orleans. Mahalia grew up in a tumbledown neighborhood of hardworking Negroes living in shacks near the levee. She began to sing almost as soon as she could walk. The chubby little girl had an unusually "big" voice, and it wasn't long before she could make a congregation shout with the joy of her gospels. After hearing her sing in the small Baptist church pastored by her father, who was a stevedore by day and barber at night, her relatives excitedly offered to teach her minstrel jazz tunes, declaring that she would soon earn enough to turn the poor family rich overnight. Mahalia's mother, however, said, "No! The devil will get no help from this house!"
As the years passed, snatches of all the sounds and rhythms she heard around her crept into the way she sang her gospels—the shouts of the fishermen on the levee, the cries of the washerwomen and roustabouts, the troubles, joys and jazz of a Negro community. Secretly she was flattered when people pointed her out as the girl whose voice could make her another Bessie Smith, the incomparable blues singer. Ambitious to escape her drab girlhood, she walked miles on weekends, to scrub floors for dimes and quarters to help the family income. After finishing eighth grade, she went to work as a laundress. Sometimes, when alone, she would practice singing the Bessie Smith blues songs she heard on other people's gramophones.
But each time Mahalia Jackson sang jazz or blues, she was uncomfortable. It wasn't only her mother's objections; it was her own inner feeling that singing gospels was more in keeping with her religious faith. "There was despair in the blues," she has said. "Singing God's music gave me hope."
Mahalia was 17 when an aunt in Chicago sent her an invitation, and a railroad ticket, to visit her. She vowed never to return to New Orleans except in triumph, and promptly found two jobs, as a laundress and as a hotel maid.
Soon after she arrived in Chicago, Mahalia sat riveted by the magnificence of the 50-voice, white-robed choir of the Greater Salem Baptist Church. Immediately after the service, she mustered the courage to ask the choir director to try her out. He invited her to midweek practice.
When practice began that night, she was so nervous that she sang far too loudly for one member of a group. As she became aware of others' eyes on her, her tension increased. But suddenly the director signaled for silence. "Miss Jackson," he asked, "would you try a solo?"
Mahalia began to sing "Hand Me Down My Silver Trumpet, Gabriel." She let the big voice go, singing as uninhibitedly as she had in New Orleans. When she finished, the director and choir members stood gazing at her, open-mouthed. Mahalia was named the Greater Salem Baptist's first soloist.
From her first Sunday as soloist, her transparent reverence hushed the huge congregation—and then the bouncing, revival beat of her gospels drove them to clapping, stomping and shouting their own devotion. Her singing brought her many friends and among them was the man she was to marry—Albert Hockehull, a Tuskegee Institute graduate who worked as a postal clerk because he couldn't find a job in chemistry, for which he was trained.
It was inevitable that Southside Chicago's grapevine would bring jazz musicians to hear Mahalia. One Sunday morning, as choir members were donning their robes, an usher rushed in. In the audience was a noted Chicago bandleader. "Sing today, girl," the usher said. "It's your big break!"
Mahalia pictured herself in night clubs, her records playing across the nation. She could send money to her father in New Orleans; she would be able to buy clothes and jewelry. That day she sang her gospels with exuberant beauty. After the service, the bandleader said, "A hundred dollars a week!"
The offer nearly tripled what she was then earning, yet she blurted that she had to think. The bandleader, surprised, gave her his card.
Through the night, Mahalia struggled with aching temptation. But a strong and steady inner voice said that her father was right; she had been given her voice to sing gospels. The glitter of jazz could never replace the glow of singing out her religion. Choir members and others told her she was silly. "There's nothing wrong with jazz," they said. "Our people birthed jazz."
Mahalia suffered the greatest of all her temptations when even her husband wanted her to turn away from gospel singing. In the Depression following 1930, Mahalia and her husband were laid off the same week and joined the legion of people tramping the streets hunting for work.
One night, with only 50 cents for food, she went to audition for a Negro musical, The Hot Mikado. She sat through successive singers of popular songs. But when they called her name, she sang "Sometimes I Feel Like a Motherless Child." When she ended, the theater was in a hush, with many people crying. "Right that second, guiltiness swarmed all through me," she says now. She had sung "Motherless Child," but she was applying to sing jazz. Mahalia bolted for the street. She was chosen for the lead role in Hot Mikado, but turned it down.
Then Johnny Meyers, a Negro impresario, featured her in a series of gospel concerts. Five thousand people came to the opening performance; as many more milled outside. Meyers suggested that she make a recording of a gospel called "I Will Move On Up a Little Higher."
The record sold like wildfire. Negro disk jockeys played it; Negro ministers praised it from their pulpits. When sales passed one million, the Negro press hailed Mahalia Jackson as "the only Negro whom Negroes have made famous." She had come to fame by singing only in Negro communities; few white Americans had even heard of her.
Overnight Mahalia was deluged with offers from dozens of major Negro figures in jazz. But each of them found a Mahalia who knew where her destiny lay. "God put me here to sing the gospels," she told Louis Armstrong. Replied Armstrong, "You'd be the greatest, but I got to go along with that."
When one of her recordings won a French Academy award, Mahalia consented to a European tour, though she wasn't convinced that foreign audiences would understand the sacred music of her people. But in Paris, Mahalia had 21 curtain calls. When thousands were turned away from her concerts, she doubled her original schedule.
During her rigorous tour, Mahalia became ill. "Once, before a concert," recalls her pianist, "she was too sick to read her Bible as she usually does before going onstage. She asked the manager to read the 98th Psalm, that has in it the verse her daddy used to use: 'Make a joyful noise unto the Lord, all the earth; break forth into joyous song and sing praises!' And when she appeared onstage, her shoulders were thrown back, the usual radiance was on her face. She sang 20 songs and seven encores, and no one suspected how ill she was."
Back in America, Mahalia moved a packed Madison Square Garden to tears—and roaring applause. In Hollywood, she sang gospels written into two motion pictures for her. She appeared in concerts, made recordings and guest-starred on TV. On a recent European tour she gave a command performance before the King and Queen of Denmark.
The jazz world has come to Mahalia on her own terms. At the 1958 Newport Jazz Festival, thousands of jazz buffs gave Mahalia's gospel songs a standing ovation. When finally she closed with "The Lord's Prayer," sung not with the usual hushed reverence, but in full, whole, round sounds, the crowd stood breathless. "Mahalia Jackson doesn't believe that God exists," wrote one critic. "She knows it!"
Today, wherever a Sunday evening finds Mahalia, she finds a church, preferably a little rundown church like her father's, and she may sing until well beyond midnight. "Those humble churches are my filling stations," she says. "If I didn't get in one every time I can, I would run empty." ~ Alex Haley.
(She Makes a Joyful Music by Alex Haley is presented under the Creative Commons License. It was originally published in the November 1961 issue of Reader's Digest. © 1961, 2007 The Reader's Digest Association, Inc. All Rights Reserved.)
Please follow and like us: