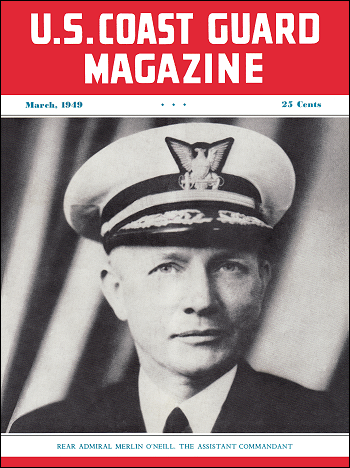 (Tragedy Stalks The Sea: An Account of The Eastwind Disaster was published in the March 1949 issue of U.S. Coast Guard Magazine.)
USS Eastwind, CG was launched on 6 February 1943 from the Western Pipe & Steel Company's shipbuilding yard in San Pedro, California. She was the second of five Wind-class of icebreakers built for the United States Coast Guard and was commissioned on 3 June 1944 under the command of Captain C. W. Thomas, USCG. She was assigned to Commander in Chief, Atlantic Command (CINCLANT) and was stationed at Boston, MA and operated in Greenland waters.
The Wind-class of icebreakers measured 269 feet in length, 63' 6″ in beam and displaced 6,500 tons. The Coast Guard contracted for five vessels of the class in November 1941 to fulfill the need to access military bases in Greenland that would be inaccessible during most of the year without the use of heavy icebreakers. Eventually, the Coast Guard operated seven Wind-class icebreakers.
Eastwind, along with the other Wind-class icebreakers, was heavily armed for an icebreaker due to her design being crafted during World War II. Her hull was of unprecedented strength and structural integrity, with a relatively short length in proportion to the great power developed, a cut away forefoot, rounded bottom, and fore, aft and side heeling tanks. Diesel electric machinery was chosen for its controllability and resistance to damage.
After the war, her homeport remained Boston where she served out of for the remainder of her Coast Guard career. From 1946 through 1947 she made four trips to Greenland supplying bases there. On 19 January 1949 Eastwind collided with the tanker Gulfstream off of Cape May, New Jersey and was severely damaged. Almost immediately a fire broke out, filling compartments with stifling, acrid smoke, killing 13 crewmen.
Tragedy Stalks The Sea: An Account of The Eastwind Disaster
IT WAS half-past four the morning of January 19th. Off Cape May, New Jersey, long, shapeless tendrils of fog converged to shroud in a vast milkiness the Gulf Oil tanker SS Gulfstream, travelling light from Philadelphia to the Persian Gulf, and the U.S. Coast Guard's super-icebreaker Eastwind, Boston to Baltimore.
At 4:35 they came together with a rasping snarl of steel on steel. Men catapulted from their bunks fought back terror. There came a second jolt when the Gulfstream bucked clear, her bow a huge, snaggled tooth that had left a gaping wound in the Eastwind's starboard midsection.
Almost immediately a fire broke out, filling compartments with stifling, acrid smoke. Through it more than a hundred bewildered Coast Guardsmen groped their way topside. Among them were ambulatory cases, men in varying stages of undress, men suffering from shock, guided more by instinct than reason.
A motley group, they bunched on deck. Eyes probed a sea of drawn, familiar faces, with relief, at first, and then mounting apprehension.
"The chiefs . . . . . ." Someone breathed it. "Where are the chiefs?"
There had been eleven. Now there were two. ENC Daryl A. Paul was working in the engine-room where he had been on watch barely an hour. ENC Gerard V. Lowther was critically burned, and lying outside the chief's mess where the heat and smoke had overcome him. The rest had been trapped when the Gulfstream's bow sheared open their quarters.
An EN3, Robert E. Connors, had missed the face of John V. Zerr, a fireman who was his friend. Before they knew his intent, he plunged back into the billowing smoke. Connors found Zerr, their shipmates determined later. Found him in the engineer's quarters and was bringing him out when the smoke felled them together in the passageway.
That is a highlight of the type of heroism that rose from the guts of men to save a ship that eerie morning. Amazing, how in the face of adversities calculated to render humans cringing, babbling animals, there emerged a damage control crew whose peer will never be exceeded.
For light there were only dawn and hand torches. And how, without water, can you fight a fire that already has the ship's plates hot underfoot?
Smoothly as at a drill, officers and men separated into details. Engineers and electricians choked their way down to the stifling bowels of the ship. On deck the wounded were tenderly carried to the fantail and covered with clothing ripped from already scantily-clad backs. Others performed superhuman emergency feats. The fire had to be quelled. Below, everyone knew (though no one mentioned it), there was enough ammunition to blow the Eastwind to kingdom come.
When the first few lights flickered on, there was a ragged cheer. A little later limp streams of water from the hoses caught up the whole crew in a solid, contagious wave of confidence. It was like a battered fighter rising somehow with the count of nine.
These things the men of the Eastwind did for themselves even as help raced to the scene. At 6:54 when the Bull Lines SS Suzanne arrived alongside, most of the seriously injured were transferred to her. She departed immediately for New York.
The SS Everett and SS Republic De Colombia arrived on the scene and drew close to render assistance. Planes from Floyd Bennett and Elizabeth City CGAS roared overhead, ready to land with doctors and medical supplies. The United Fruit Company's new, sleek SS Junior arrived as the Eastwind fire began to get the upper hand.
Faced squarely with the possibility of even more appalling disaster should the magazines be set off, Captain John A. Glynn of the Eastwind ordered 83 of his men to board the Junior which would carry them to New York.
When the fire had increased to abandon-ship proportions the cutters Gentian and Sassafras arrived with crews who had begun firefighting almost before they were moored alongside the stricken ship. They and the Eastwind's skeleton crew were exhausted, grimy and black three hours later, at 1422, when the Sassafras reported the fire under control. Within a little while the Eastwind was in tow. There were 50 hours between her and New York.
At about the same time, the Suzanne had arrived at Pier 23, Brooklyn, where a cordon of police held back crowds while injured men were transferred to ambulances. At dusk the Junior arrived off Quarantine to transfer her survivors to the waiting cutters Navesink and Sauk, which carried them to the Coast Guard Base at St. George, stopping enroute at Pier 18 to deliver two stretcher cases. At 11:23 the Gulfstream limped to anchor off St. George, having come under her own power.
As this is written the death toll has risen to 13. They were:
William E. Barnett, CSC
Ewell Busby, ENC
Harry F. Brown, HMC
Donald W. Bryson, BMC
Stanislaus Coindreau, SA
Robert E. Connors, EN3
Louis Cywinski, DCC
Peter A. Everett, QMC
Kenneth S. King, SKC
Anthony G. Machansky, RMC
Rupert D. Midgette, ENC
John V. Kerr; FA
Albert P. Williams, SA
For Coast Guardsmen and their friends this greatest peacetime tragedy has drawn a tighter bond. For people everywhere it has brought into glaring, abrupt reality the dangers that walk in lockstep with men who go down to the sea in ships.
Amen.
(Tragedy Stalks The Sea: An Account of The Eastwind Disaster is presented under the Creative Commons License. It was originally published in the March 1949 issue of U.S. Coast Guard magazine. © 1949 U.S. Coast Guard. All Rights Reserved.)
Please follow and like us: