Conversations With Roy DeCarava (1984)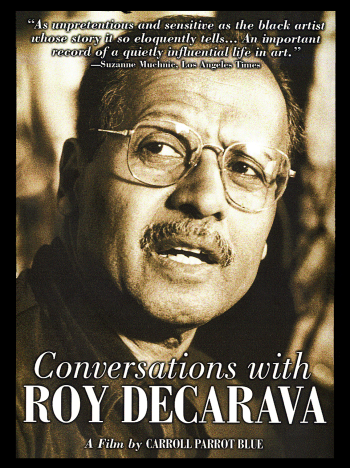 "It starts before you snap the shutter… It starts with your sense of what's important." These are the words of Roy DeCarava, one of the foremost photographic artists of the twentieth century, contributor to the Family of Man exhibit and the first black photographer to receive a Guggenheim Fellowship. These are the words of a man who focuses his lens, sensitivities and conscience on the life, tempo and sensibilities of black people and the contemporary urban environment.
Conversations With Roy DeCarava examines his life and work, and features appearances by internationally noted photographer Ansel Adams, photography critic A.D. Coleman, and the executive director of the Studio Museum in Harlem, Dr. Mary Schmidt Campbell.
It deftly interweaves 108 of DeCarava's black and white stills with a portrait of the artist discussing his life, past struggles, his efforts to foster young black photographers, and the relationship of his work to the black experience in America. DeCarava's unforgettable images have immortalized the jazz world through his photographs of contemporaries Billie Holiday, John Coltrane, Roy Haynes and others.
DeCarava's vision depicts a world of contrasts; a people of power and delicacy, strength and resilience. It's a private vision, publicly expressed through his words, life and work.
Originally released as a motion picture. Blue Ribbon Winner, 1984 American Film Festival. Second Prize Winner, 1984 Black American Cinema Awards. Produced and written by Carroll Parrot Blue; Music, Jimmy Owens. 1 Videodisc (28 Minutes), Standard Definition, Color – Black & White. Biographic Narration by Alex Haley.
Biographic Narration By Alex Haley
0:02 – Roy DeCarava is a photographer. For 36 years he has created images that have earned him the title of a master.
2:35 – On the 9th of December 1919, Roy DeCarava was born in New York's Harlem. In the 1920s, Harlem was optimistic. This optimism was shattered with the Great Depression.
3:58 – In 1938, Roy was working full time while studying art at Cooper Union.
4:40 – Roy's strongest influence was the artist, Charles White.
5:19 – Roy kept working days. At night, he worked on his art. To save time with his sketching, Roy turned to photography.
9:40 – Roy married art historian, Sherry Turner in 1970. Soon after, she began a critical analysis of Roy's work.
11:10 – Roy's photographic career began in 1950 with his first one man show. Edward Steichen, America's Dean of Photography, was very impressed. He bought Roy's prints and included his work in the classic exhibition The Family of Man. Years later Steichen would call Roy DeCarava one of the world's ten best photographers.
12:24 – Edward Steichen also sponsored Roy for a Guggenheim Fellowship. He became the first black photographer to receive the award. It finally gave Roy the opportunity to work uninterrupted on his art.
14:03 – In the early 1950s, Roy's portfolio was rejected as too Negro. Frustrated, he showed his work to the writer, Langston Hughes.
16:03 – Roy decided to freelance in 1958. For the next eighteen years, he was a black pioneer in commercial photography working for clients like Sports Illustrated and Harry Belafonte. ~ Alex Haley.
Note: Photographer Roy DeCarava has consistently explored one subject: Harlem, New York City. Director Carroll Parrott Blue uses DeCarava's images to tell his story—which is the story of a practitioner of a specific aesthetic—that presented a positive, beautiful image of African Americans, in terms of family, work, and entertainment. Through interviews with contemporaries and scholars, accompanied by a lush jazz score, this précis portrait of DeCarava is a comprehensive introduction to this justly celebrated yet neglected photographer. Awards: Blue ribbon winner, American Film Festival 1984.
(The above narration by Alex Haley is presented under the Creative Commons License. © 1984, 2003 Icarus Films. All Rights Reserved.)

Please follow and like us: