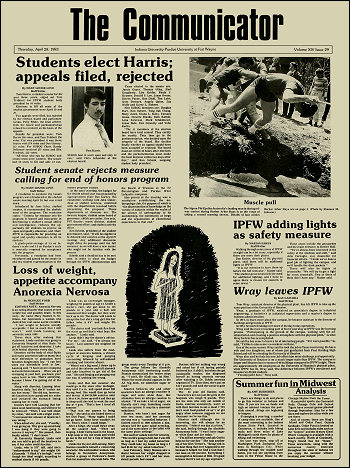 (Alex Haley spoke about the future of the family at Allen County Public Library in Fort Wayne, Indiana on April 12, 1983.)
The Allen County Public Library has been part of the social and cultural fabric of Fort Wayne, Indiana and surrounding communities since 1895. Then known as the Fort Wayne Public Library, it served residents with 3,606 volumes in a room in City Hall. Since then it has grown to consist of the main library in downtown Fort Wayne and thirteen branches in the city and outlying communities.
The Library is a service institution. It seeks to inform, educate, entertain, and culturally enrich the entire community by providing books and other library materials, facilities, and professional services for free use by all residents.
The Genealogy Center is a remarkable family history destination and continues to build on its tradition of excellence in serving genealogists, historians and other interested hobbyists and scholars. An experienced staff provides services to a full range of patrons, from children to senior citizens and from beginners to experienced researchers. To support these efforts, the Center has gathered an extensive collection of 350,000 printed volumes and more than 513,000 items of microfilm and microfiche. These resources grow daily through library purchases and donations from appreciative genealogists and historians.
The Genealogy Center holds the largest English-language genealogy and local history periodical collection in the world with more than 6,200 current subscriptions and more than 10,000 titles. Individual articles can be accessed through a variety of indexes including the PERiodical Source Index (PERSI), compiled by department staff and available electronically at HeritageQuestOnline.com.
Haley Visits City
"Rather than feeling rigid, we need to be realistic that things are constantly open to change," said Roots author Alex Haley.
Haley came to the downtown Allen County Public Library in Fort Wayne April 12. He spoke about the future of the family and answered reporters' questions earlier in the day.
"Previously hallowed institutions," such as marriage, have undergone change in America, Haley said. Many people are choosing to live together instead of gelling married. Fifty yean ago, the idea of a man and a woman living together without being married would have made people "keel over." Now millions of people are choosing to do that, he said.
But Haley said the change gives farther than just one part of society. "Collectively, society's changing," he said.
It is important to be realistic about changes in American society, Haley said. When the momentum of change starts, "not very much" will stop the change. It is important to weigh the gains and the losses, he said. "Every time you gain something," he said, "you also lose something."
Fifty years ago, the average home in America would contain three generations of individuals. Today, almost a forth of the houses are occupied by single individuals, Haley said.
Family reunions can help strengthen families, Haley said. The reunions have "almost in a psychic way," strengthened the family, he said.
Haley's book Roots, which tells about some of his ancestry, was very popular. Roots was really a story about generations of a family," he said.
People throughout the world could relate to the story because everyone is a member of a family, which has ancestors, he said.
His next book, titled "Henning," is scheduled to be published in February, 1984. The book is about people and events in his small hometown of Henning, Tennessee.
The book will be more than a story about one small town. "All towns tend to have common characteristics. I like to write things which tend to be symbolic (of other things)," Haley said.
A condensed version of "Henning" will he published in next month's Reader's Digest. The second part of the book is not finished yet, he said.
Haley said he tries to be accurate in his stories. "So if I write a novel, though it is fiction, I will guarantee you it will be accurate, just because that gives me the power of fact," he said.
Haley's advice to writers is to "write about what you know most about.
"What we do tends not to look exciting to us, and it isn't that it needs to be all that exciting to make a book. But we tend not to see it the way other people might see it if it were written about properly," Haley said.
Haley said he enjoys traveling to various places throughout the country. "I love to just go here, go there, go around and just kind of touch the different parts of this country. It's—to me—exciting," he said.
(Haley Visits City is presented to our audience under the Creative Commons License. It was originally published in the April 28, 1983 issue of The Communicator. © 1983 Indiana Purdue Student Newspapers (IPSN) Inc. All Rights Reserved.)
Please follow and like us: