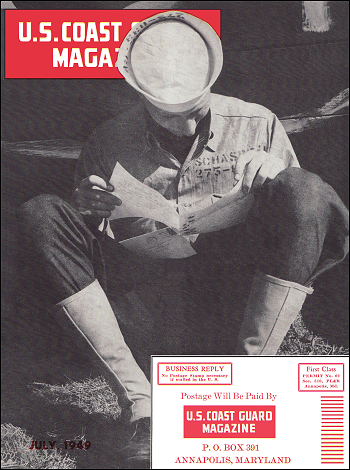 (He [Elmer Stone] Gave Us Wings was published in the July 1949 issue of U.S. Coast Guard Magazine.)
Behind the controls of the U.S. Navy seaplane NC-4 when it made its historic crossing of the Atlantic was a Coast Guard officer, Commander E. F. "Archie" Stone on this first successful trans-Atlantic flight.
Elmer Fowler Stone was born in Lavonia, Livingston County, New York, on 22 January 1887. His family moved to Norfolk, Virginia in 1895. Stone attended high school in Norfolk, Virginia, and after graduating, began work as a stereotypist. In 1910, at the age of 23, he qualified as a cadet in the Revenue Cutter Service of the United States after passing the required examinations and was appointed as such on 30 April 1910 in the Revenue Cutter Service's School of Instruction. He graduated three years later, on 7 June 1913, and was commissioned as a third lieutenant in the Revenue Cutter Service.
During the summer of 1915, Stone, and another officer, Norman B. Hall, performed scouting patrols for USRC Onondaga assisting in search missions. In 1916 he was trained in aircraft use at the United States Navy flight facility in Pensacola, Florida, and also studied aeronautical engineering at the Curtiss factory. On April 10, 1917, upon graduating from flight training, Stone became the Coast Guard's first aviator and was appointed as Coast Guard Aviator No. 1 and Naval Aviator No. 38.
In May 1919 Elmer F. Stone was the pilot on the first successful transatlantic flight on NC-4 with Lieutenant Commander A. C. Read, USN. He was awarded the British Air Force Cross by the British government (June 9, 1919), and received a promotion to the temporary rank of captain on 25 September 1919. He was awarded the Navy Cross and Congressional Medal of Achievement for "distinguished service in making the first successful trans-Atlantic flight" on November 11, 1920.
He [Elmer Stone] Gave Us Wings
ONE MIDNIGHT in May, 1936, two enlisted Coast Guardsmen with three days leave drove past the sentry gate at the St. Petersburg Coast Guard Air Station and continued non-stop to Washington, D.C. They were barely in time to join the funeral procession of their late leader and friend who had been the illustrious pioneer of Coast Guard aviation.
His name was Elmer Fowler Stone, a Commander, USCG. He had been many things: a pilot, aviation engineer, a designer and substantial contributor to the progress of American aviation; a modest winner of international honors and accolade; a setter of records, a dreamer, a doer.
Admittedly, the mortal end of a life so full is hardly the point to begin its telling. But nothing more significantly gives insight into Commander Stone The Man than the gesture rendered by two enlisted men formerly of his command. Or, perhaps, the fact that within a month there had been established a Stone Memorial Fund into which ultimately came hundreds of contributions from his admirers throughout the country.
Elmer Fowler Stone was born in Livingstone, New York, on January 22, 1887. He early displayed a growing interest and curiousity in what made things tick. When he was 23, in 1910, he qualified for the U.S. Revenue Cutter Service, and three years later received his commission as Third Lieutenant. By 1915, when the Revenue Cutter Service and Lifesaving Service were merged and designated United States Coast Guard, the young officer had already gained wide attention for his imaginative talent, a promising potential officially acknowledged by his selection the next year as the first Coast Guard officer to attend Flight Training School in Pensacola.
Advanced temporarily to Lieutenant Commander during World War I, Stone served aboard the USS Huntington, on convoy duty. Later, in September, 1918, he was transferred for special duty to the Navy, in the Bureau of Construction and Repair, at Washington, D.C.
His next assignment—as co-pilot of the Navy Flying Boat NC-4—spearheaded his fame.
It was Spring, 1919. Ever since the war, aviation enthusiasts had eyed the Atlantic and the certainty, with its crossing, of a glowing chapter in the annals of aerial history. By May, innumerable discussions and untold hours of intricate planning and calculation had groomed several teams of fliers, confident in their aircraft that were archaic by today's standards, who literally strained to be off. In New York was the Navy's recently formed Seaplane Division One, comprised of the NC's 1, 3 and 4. Three British units were poised at St. John's, Newfoundland. Also, in Newfoundland, the Navy lighter-than-air C-3 tugged at her mooring. Two crack crews stood by in France.
Public Relations had not then become an official Naval function, but the next move was timed beautifully, during the first week in May, when international tension was at its peak. In one sweeping move, sixty-eight destroyers and five battleships were ordered to intersperse between Far Rockaway, Long Island, and Plymouth, England. The next afternoon Seaplane Division One was issued its first assignment:
"Cross the Atlantic!"
Many thousands of well-wishers watched and cheered themselves hoarse that afternoon. Commander John P. Towers, the Division Commanding Officer, with Commander H. C. Richardson as copilot, took off first in the Division Flagship NC-3. The NC-1 was next, with Lieutenant Commanders P. N. L. Bellinger and Mark A. Mitscher (who, 24 years later, as WWII Admirals, led Naval Carrier Warfare to unprecedented heights), as pilot and co-pilot, respectively.
Lieutenant Commander A. C. Read and Coast Guard Lieutenant Stone and their crew were the last airborne, in the NC-4.
All three planes landed safely in Newfoundland. But this was only a prelude to the longest single leg of the flight—to Horta, in the Azores. Again, at 2200 on May 16th, there was a simultaneous takeoff.
But only the NC-4 reached Horta. Heavy weather had battered the NC-1; she was damaged in an emergency open sea landing 100 miles west of Flores, Azores. The Flagship NC-3 fared similarly 45 miles southeast of Fayal, Azores.
The NC-4 crew left Horta on the 20th, flew an hour and forty-five minutes to Ponta Delgada, checking positions with destroyers along the route. Fog and heavy seas delayed their departure for Lisbon until the morning of the 27th. Happily, the nearly ten-hour flight there was without incident.
When the NC-4 left Lisbon Harbor, it was on the last major leg of her flight. Then there came word of a leak in her port engine, necessitating an emergency landing in the Mondego River above Figueire, Portugal. But the crew worked feverishly to become airborne with the morning high tide.
At Ferrol, Spain, there was another landing and more repairs. Then, at 6:27 A.M. on the 31st, when Lieutenant Stone and the other men of the NC-4 limped up into light rain, the world bated its breath.
Seven hours later the canvas and plywood plane appeared above Plymouth, England. It circled once, twice. Then it spiraled down and neatly split the surface of Plymouth Harbor, behind the breakwater, in a great, cleaving welter of spray.
The rest is history. There, at Plymouth, a beaming Lord Mayor presented the keys to the city before screaming thousands. Here, in America, after their return by ship, the daring, heroic crew were received by Secretary of the Navy Josephus Daniels and Under Secretary Franklin D. Roosevelt, and feted by the nation.
Ovation was everywhere—the kind that met Lindbergh when he came back home from Paris; Doolittle, from Tokyo; the Bibb, from station "Charlie" with 69 people who had expected to die.
That was 30 years ago. The anniversary was marked the 8th of last month when the famous Navy Lockheed "Truculent Turtle" respanned the historic route in fewer hours than the NC-4 consumed in days. Former Lieutenant Commander Read (now Rear Admiral, USN, Ret.), of the original flight, made the crossing as a guest. There was also present a Chief Petty Officer (Ret.), who had been a crewman. It is too bad that Commander Stone lay in Arlington; he would have enjoyed it.
Commanding Stone was appointed the first Coast Guard aviator in March, 1920, and thereafter assigned with the Aviation Division of the Navy Bureau of Aeronautics until the autumn of 1926. (Though an aviation branch of the Coast Guard had been formally authorized in 1916, several adversities shelved all but abortive progress until ten years later when air stations were established at Cape May and Gloucester.) During this year he was returned to the Coast Guard for duty. In May, 1932, he was appointed Commanding Officer of the Cape May Air Station, where he served until April, 1934, when he was assigned to a tour of duty as inspector of Naval aircraft at the Douglas Aircraft Company, in Santa Monica, California. Subsequently, he was made Commanding Officer of a new air station at San Diego.
Many times in his career Commander Stone was commended. Among them:
By the Secretary of the Treasury for "skill and judgement displayed in the rescue of seven men from the schooner C. C. Webrum, off False Cape, Virginia, with a gale blowing."
By the Chief of the Navy Bureau of Aeronautics for "valuable services in the development of catapult and deck arresting gear for aircraft and aircraft carriers, and as a test pilot."
By the Secretary of the Treasury and the National Aeronautics Association (a separate commendation) for establishing a world record for amphibian planes, 191.795 miles per hour, over a three-kilometer test course at Buckroe Beach, Virginia.
So goes an extract of the official record. But records are such cloistered things, with their warp of protocol and woof of high-sounding phraseology. There is no place in a full file of them for one entry reflecting the size of a man's heart, or the fact that he appreciates a pretty sunrise, or, maybe, that he believes in the Golden Rule. Perhaps it is just as well. Such things are implicit, anyhow, to a man's friends.
That is why after Commander Stone died, in May, 1936, of coronary thrombosis, in San Diego, hundreds of Coast Guardsmen from east to west hastened their donations to arrange perpetuation in some way of the memory of the man they had held dear in the unsung but impregnable way that men do.
Since then the "Stone Fund," nearly six hundred dollars, has lain fallow in the custody of Commander George C. Bowerman, of the 3rd District, who was a young Junior Lieutenant then, and the 18th Coast Guard aviator. There have, of course, been suggestions for its use. Several. But somehow the Fund trustees could never reach unanimous agreement until there came to be talk about erecting a Memorial to all Coast Guard heroes, a Chapel of Worship, on a restful, grassy knoll overlooking the Coast Guard Academy.
There needs to be an Elmer Fowler Stone stained-glass window in the Coast Guard Memorial Chapel that we are soon to build. Six hundred dollars is a very good start, but the kind of window to represent the kind of man he was takes more. Let us send what we will to Commander J. C. Wendland at Coast Guard Headquarters, Washington, and earmark it "Stone Fund." And let us remember: Our ranks have never held his peer.
(He [Elmer Stone] Gave Us Wings by Alex Haley is presented under the Creative Commons License. It was originally published within the July 1949 issue of U.S. Coast Guard Magazine. © 1949 U.S. Coast Guard. All Rights Reserved.)
Please follow and like us: