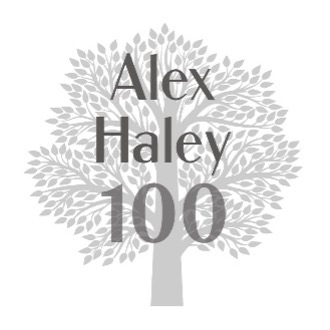 Alex Haley Centennial Committee
Nation Celebrates Alex Haley's 100th Birthday
The family of late Roots author Alex Haley will celebrate his 100th birthday August 11, 2021, by kicking off a year of activities that promote family history, storytelling, and intergenerational bonds. Alex Haley was born August 11, 1921, in Ithaca, New York, and died Feb. 10, 1992, in Seattle, Washington. A prolific author of books and articles, Haley collaborated with Malcolm X on an award-winning autobiography and sparked a worldwide genealogy movement with the 1976 publication of Roots, The Saga of an American Family.
"Dad was not a perfect man, but his impact on American life was indelible," said Haley's daughter, Cynthia Haley Dunn. "He shed new light on cultural leaders, inspired us to seek our origins, and sparked vital conversations about kinship and community."
Haley's family will join celebrations in Henning, Tennessee, and Annapolis, Maryland, before kicking off a year of observances in other cities to be announced.
Historic Annapolis, the landing site for Haley's Gambian ancestor, Kunta Kinte, will host a virtual presentation by Chris Haley, a writer, actor, documentarian, archivist, and nephew of Alex Haley. Audiences must register at www.Annapolis.org to attend the event, August 11, at 7:30 p.m. On August 14, at the Annapolis City Dock, local leaders will issue a proclamation and gift Haley family members with a key to the city. The tributes will culminate in the annual Kunta Kinte Heritage Festival on September 25. Heritage Festival information is available at www.KuntaKinte.org.
In Henning, Tennessee, the Alex Haley Museum and Interpretive Center will host a two-day celebration featuring former U.S. Senator Lamar Alexander, representatives of the U.S. Coast Guard, from which Haley retired, and other dignitaries linked to Alex Haley's life. Activities scheduled for August 13-14 include a ribbon cutting and tour of the newly renovated museum and historic house, which is located one hour from historic Memphis, Tennessee. For directions to the museum and celebration details, visit www.AlexHaleyMuseum.org.
The Haley family will announce additional celebrations and partnership activities throughout the centennial birthday year, which runs from August 2021 to August 2022.  The Alex Haley Family furthers the legacy of America's griot by promoting family and community heritage, storytelling and oral history, and friendships between young and old.  Find links to centennial events at www.AlexHaley.comand follow the family at "Alex Haley Family" on Facebook. 
Media Contact: